Halloween Party
I'm a Fiend for Halloween
Maybe it's because of my love for crusty Punk Rock posters, or my juvenile enjoyment of Zombie movies, I don't know. When we decided to leave London, I decided to throw a decadent leaving party with a Halloween theme. All in all, I think we spent about £300 (most of it on the venue - Whirled Cinema near Brixton) and a hell of a lot of time on decorations.
To kick off the fun, I put together a dark little invite, sealed with a skull seal in black wax. The party itself pulled together a generous mix of Halloween snacks (from witches fingers to pizza dough bones) and decorations (a cardboard graveyard dance floor and bony bunting) all topped off with a projection of horror films. A fair bit of effort from me, my girlfriend and her sister and brother-in-law was returned ten-fold by the amazing lengths that our friends went to in dressing up. Good times.
For the Halloween party, I put together these dancing skeletons, using Ray Harryhausen's amazing stop-motion animation for the 1963 Columbia Pictures film Jason and the Argonauts. The clip came to around 15 minutes, included clips from other films as well as original material and was projected silently on a back wall.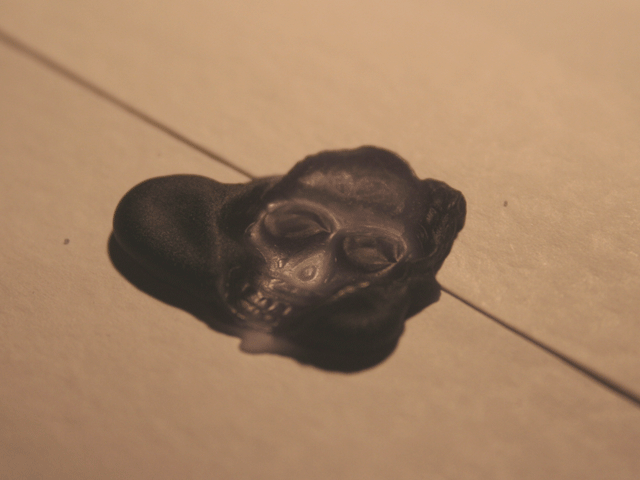 No party is complete without party bags, so I decided to turn myself into a decapitated zombie, and stuff my brains with chocolates, to hand out at the end of the night. I used my grandmother's old Singer to make about 100 of these and handed them out as people we're hitting the road.